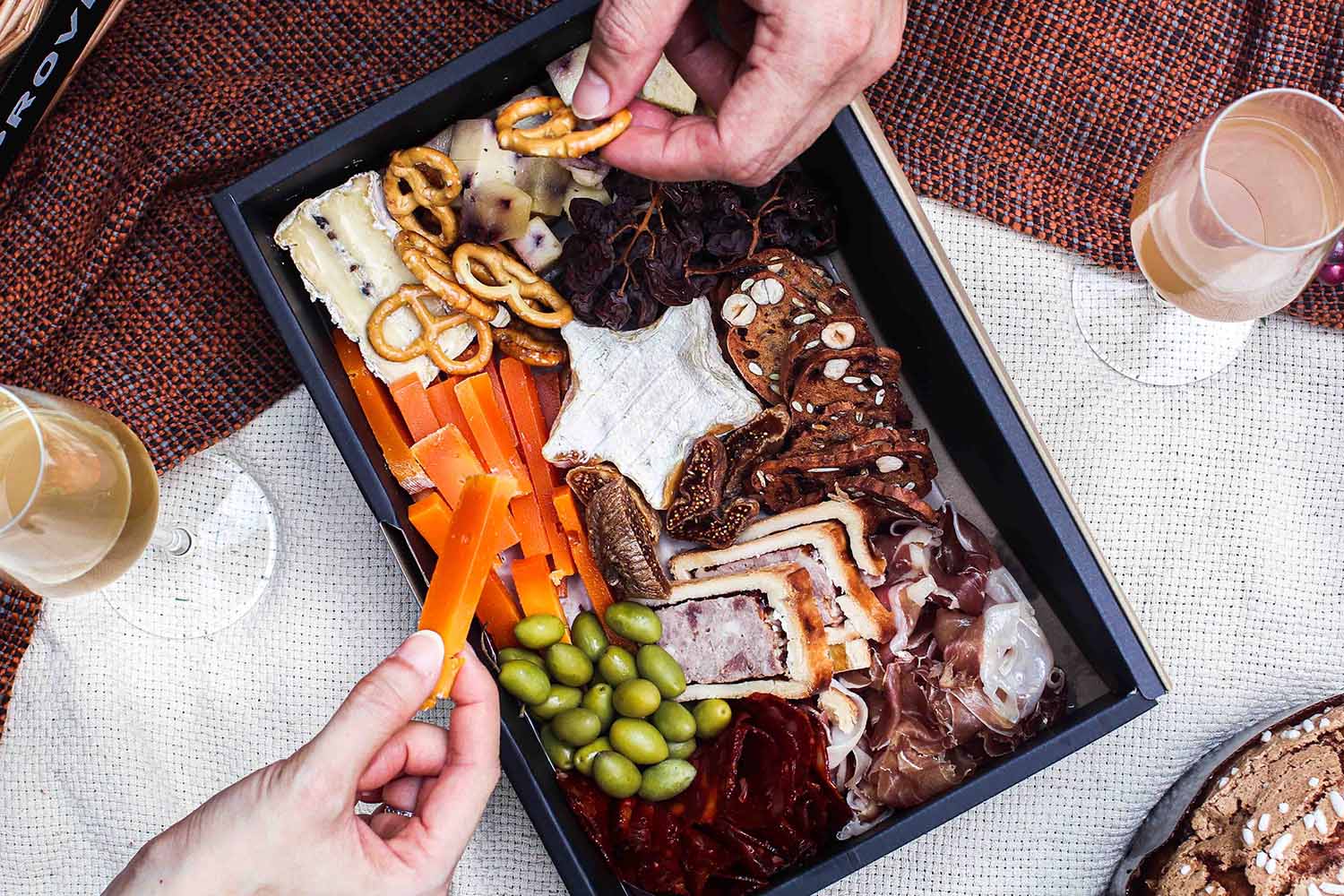 Get Ready for the Festive Feast!
It's never too early to indulge in your Christmas feasts. We think the festive season starts in November, and why not!
During this time of cheer and celebrations, what better way to spend the holidays than with good food, cheese, sweet treats and lots of laughter?
Whether you're planning a festive brunch or dinner at home, heading out for a nice meal, or sending a thoughtful gift to a loved one –
we wish that the holiday season sparks an abundance of joy and hope for you and your loved ones!
Scroll down and browse our range of Christmas goodies for the season including our festive platters, deli specials, Christmas bakes – and get ready for a delightful time!
This Christmas, we are glad to be home for the holidays, together with you!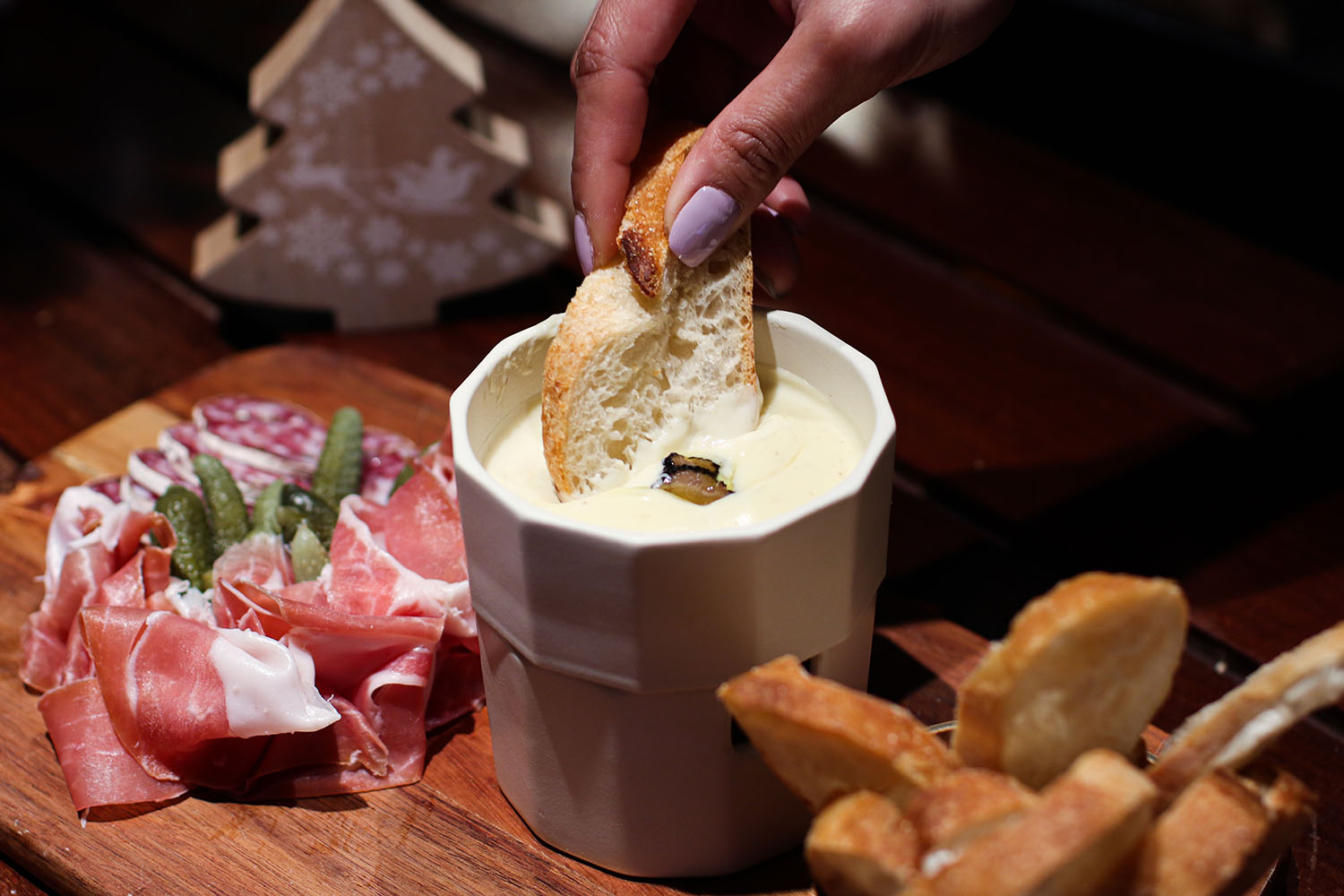 Deli Christmas Specials: Truffle Cheese Fondue
We may not have winter but the recent rainy weather is perfect for a comforting cheese fondue!
Made with a mixture of three delicious cheeses, and served in a candle-warmed fondue pot with an array of scrumptious accompaniments and freshly shaved black truffle, it's a great treat for sharing, so bring your favourite plus one to enjoy it with!
Available exclusively only at our OUE Downtown, Mandarin Gallery and Wisma Atria outlets.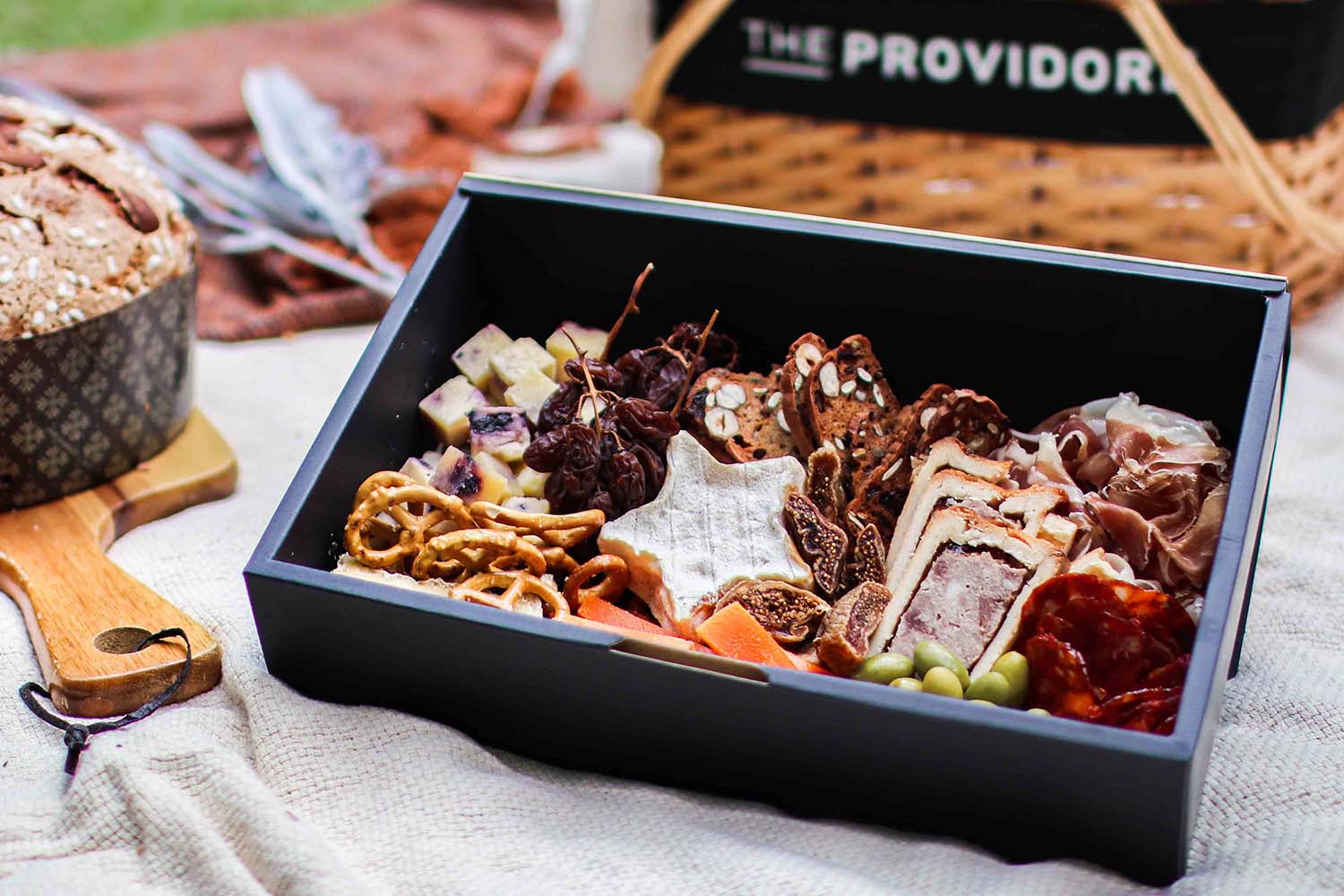 Don't you think that a platter
of delicious charcuterie and cheeses is one of the best things to grace your dining table with?
We've put together some of our favourite deli produce, alongside seasonal cheeses and accompaniments into a beautiful black box, making it perfect as a gift!
These festive specials will definitely bring a smile to the face of your loved ones. They also make a great surprise delivery for colleagues who are in a work from home situation and could use a little cheering up! 
The Christmas Star Platter
$98.00
Living up to its name is our deli's 'star' feature this festive season!
Featuring a hearty selection of remarkable cheeses, charcuterie and premium accompaniments, this platter will definitely elevate your next home gathering and also makes a great gift!
Platter includes Etoile de Gatine, Brique du Nord, Petite Camembert Truffle, Parma Ham, Iberico Chorizo Salami, Pate en Croute and an assortment of accompaniments. Good for 3 to 4 pax.
The Mistletoe Cheese Board
$110.00
A perfect surprise to send a loved one/friend/colleague in need of a little cheering up!
5 different cheeses, each with their own unique flair and character, all bundled up in a beautiful black box with a generous array of delicious accompaniments!
Platter includes Sapic Blanc, Moliterno Pecorino al Tartufo, Marie Harel Petite Camembert, St Julien Walnut Cheese, Fourme d'Ambert and an assortment of accompaniments. Good for 3 to 4 pax.
Both platters are available exclusively online and at our OUE Downtown, Mandarin Gallery outlets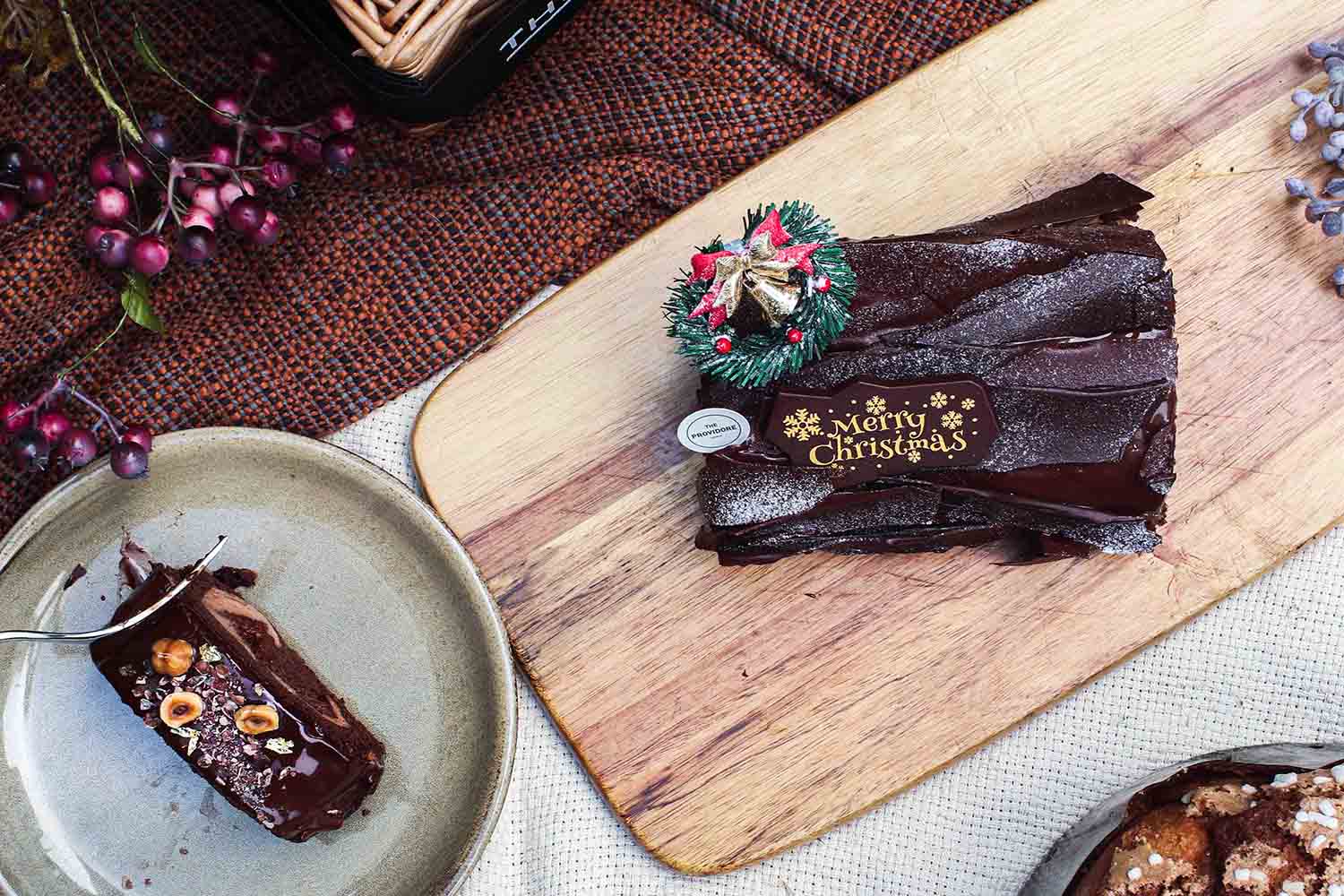 Christmas Logcakes and Bakes
It is never too early to plan your festive sweet treats!
Our delicious line-up of cakes this year includes the familiar favourites of yesteryear, together with a handful of new creations. Besides ordering and gifting these whole cakes, you can also enjoy the sliced versions in our cafes! 
Scroll down to check out some of our highlights this festive season!
The Providore Fruit Cake
$28.00
Made via a laborious process that involves soaking the dried fruits in Plantation Rum, spiced pear liquor, Cointreau, and brandy way before baking, the end result is a moist, flavour-filled treat that is perfect for the holidays.
Available online and at our outlets.
Christmas Stollen
$28.00
Our Christmas Stollen makes its seasonal appearance with its signature rich festive flavours, accentuated by dried fruits soaked in alcohol and finished with a generous coating of butter and icing sugar!
As an added treat, it comes packaged in a beautiful black box, making it perfect as a gift!
Available at all our outlets, as well as for pre-orders online!
Kumura Logcake
$68.00
Made with Japanese sweet potatoes and baked to fluffy perfection, this "kawaii" log cake will surely hit the spot if you're looking for something a little different from the traditional log cakes for your festive gatherings this year!
Pre-order yours today!
Tuber
$68.00
A luxurious delight for your Christmas table, the Tuber contains a creamy black winter truffle core, encased in an intense dark chocolate mousse, and seated on a biscuit base with hints of parmesan. This cake is one not to be missed by truffle-lovers, and also makes a great conversation starter at the dinner table.
Our delicious line-up of cakes this year also includes the classic Buche de Cacao (Chocolate Logcake), as well as crowd favourites from last year, our Festive Strawberry Shortcake.
Stay tuned for more festive updates coming your way this Christmas!