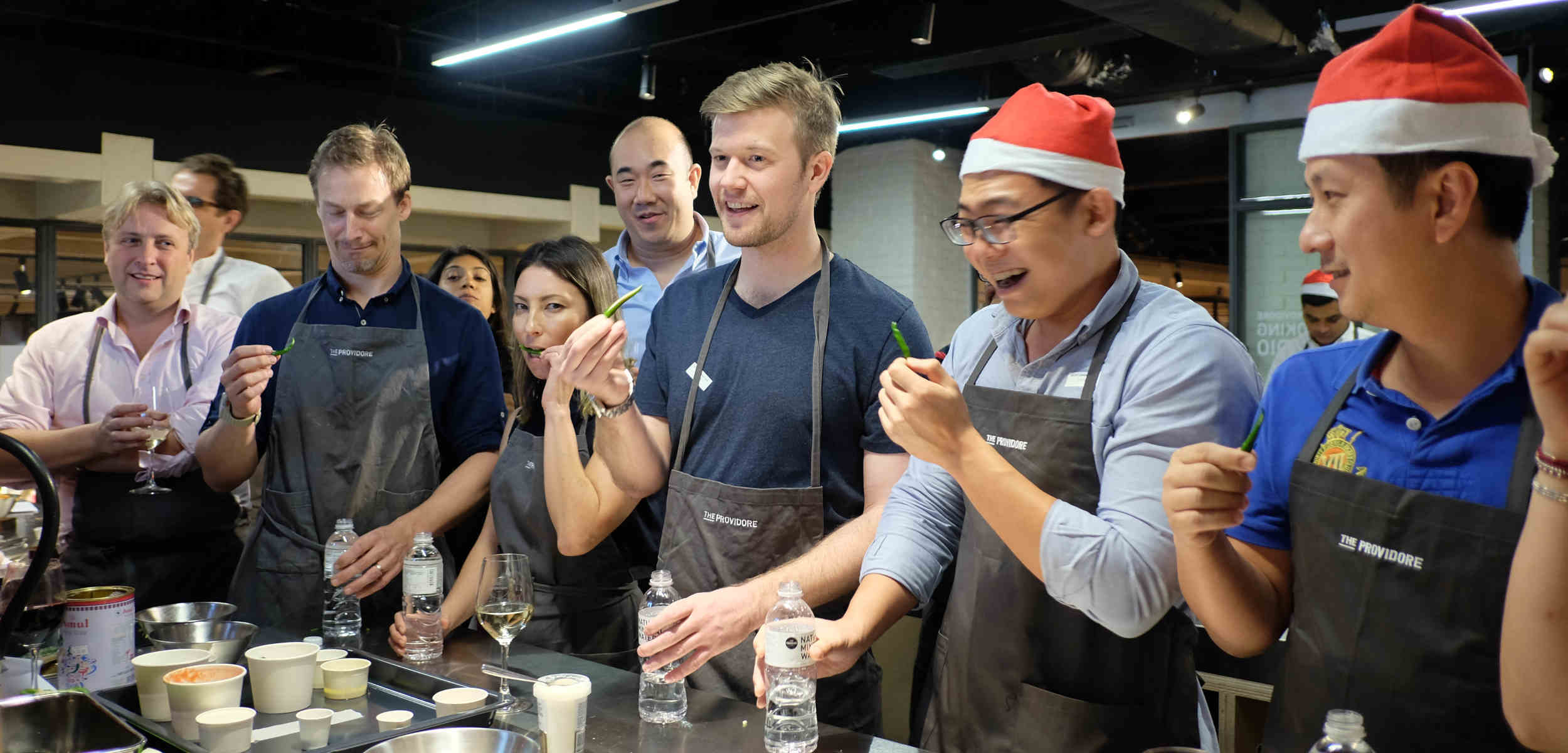 Looking for a fun social activity for your team building event or social gathering?
More than just attending a cooking lesson, our corporate team classes are designed to be fun and interactive!Walk away with an experience like none other as we share with you our insatiable love for good food.
Cooking Classes
1 Hour Classes – $55/pax
Pizza, Pizza Pizza
Hands-on class where participants will team up to make their very own pizza creations w/ premade dough, using the best of our in house deli ingredients.
Pasta Making
Participants will get to make their very own pasta from scratch and also cook their very own pomodoro styled sauce.
Easy Desserts
Participants will create one chosen season delectable dessert from scratch all on their own.
2 Hour Classes – $95/pax
European Masterclass
Participants will get to choose 2 courses from entree, main and desserts from English, Spanish, French and Italian course selection, attempt to cook it from scratch – restaurant styled!
Advanced Desserts
Participants will create 1 baked and 1 non baked dessert from a seasonal menu from scratch.
Custom Classes
Cookout with our Chef (2.5 hours)
Want to try your hand in the ultimate team building challenge? Transform your team into a kitchen brigade for one day – headed by our own Chef Instructor and cook a custom 3 course meal.
Appreciation Classes
Cocktail Classes
1.5 Hours
$90/pax
Learn the basics of cocktail bartending, tool and techniques and plethora of spirit knowledge and create a few cocktails along the way! Bar stores comes inclusive.
Wine & Cheese Classes
1 Hour
$55-65/pax
Participants will learn about the various types of cheese and wine in an introductory styled class. Cheeses are introduced and wine type explained and most often paired. An introductory level styled class to set your way to explore wine and cheese yourself.

Additional Information
Class Timings
Weekdays: 10am – 8.30pm
Weekends: 10am – 4pm
Class Includes Mineral Waters, Use of Apron, Take Away Recipes, 10% Discount Vouchers* Optional Add-ons Drinks & Beverages: Exclusive 10% Discount off retail prices by pre-ordering alcohol from our retail selection. Light Bites & Mains: Exclusive 10% Discount off from meals, light bits from our cafe menu.
Interested in our Studio?
Contact Us directly for more information or to book directly with us!